Marcela Rada
Sound Engineer & Content Developer
Marcela is a skilled sound engineer with several years of experience recording, editing, mixing, and mastering audio for independent artists.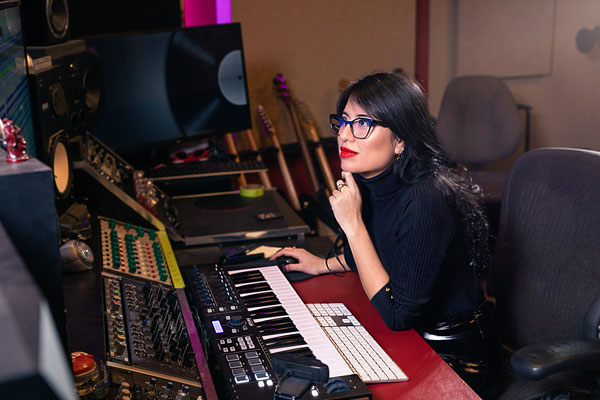 She has experience with recording and mixing audio techniques in various formats such as stereo, surround, ambisonic, binaural, and spatial.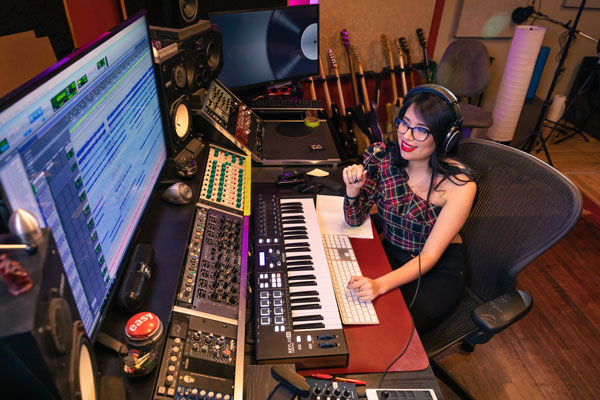 Her experience as a college professor and lecturer has motivated her to become a mentor for those who seek one-on-one instruction in recording and mixing techniques.



Experienced in
Unity • Oculus Quest • Oculus Rift S.
Mac and Windows • Avid Protools • Ableton Live • Logic Studio • Reaper • L-Isa • d&b Soundscape.
SL Duality • Euphonix System 5 • Neve • DigiDesign C|24 24-channel controller • Audient asp8024 consoles.
Insta 360 Pro • Insta 360 Pro 2 • Insta 360 Go • Insta 360 One X.
Traditional Video Technology
Adobe Premiere Pro • Photoshop • After Effects.
4K Canon and Nikon cameras • Go Pro
Ambisonic Audio Technology
First and second order mics • Ambisonic encoders and decoders.
Watch now
Down to Earth
String Quartet written and conducted by Ricky Liu. Palau de Les Arts, Valencia, Spain.
Watch now
When You Believe
Score from The Prince of Egypt. Composed by Stephen Schwarts, Performed by the Valencia Film Orchestra. Palau de Les Arts, Valencia, Spain.
Watch now
Women of War – Julie McCarth
Movie score written and conducted by Julie MCCarthy Air Studios, London, UK
"Marcela is a trail blazer in her industry. She delivers above expectations and it is always a joy working with her. She has inspired my creativity and will work tirelessly to present your music in its best light."
Don Moné
Artist
"Marcela Rada is a skillful and top of the line audio engineer. Not only will she distinguish herself with her remarkable knowledge of ambisonics, but her workflow and organizational structure will accomplish the finest realizations in the studio."
Audrey Cousineau
Artist/Producer/DJ
"Marcela has been an indispensable part of our  She Knows Tech team. She  was  a  key factor  in  our  successful  preparation  for  our  Tech  Training   Program  to  empower   women  in the music industry"
Jasmine Kok
She Knows Tech, CEO
"Marcela is professional, responsive, attentive to detail, you can not ask for a better mixer that will put in 110% in your project"
Julie McCarthy
Composer
"Marcela Rada is an outstanding engineer with a wide range of skills. She is completely at home in the studio and puts you at ease instantly, both because of her positive attitude and because you trust she knows what she's doing."
ARAE
Artist
"I hired Marcela as the main sound engineer for my debut album "Siricumbaia." She is one of the most reliable, professional, and encouraging engineers I have ever met. She brought my music to life and I will always trust her with my music"
Choby Scheufler
Artist
"It has been a pleasure working with Marcela Rada on my project, "The Rime of the Ancient Mariner: the Musical". The project has won many awards in film festivals including best original soundtrack, best original score, best sound & music, and best original score/soundtrack movie & television thanks to Marcela's professional engineering mix and polish."
Santina Vendra
Producer
"Marcela's enthusiasm and interest in the music of the artists she works with shows she cares about fulfilling the vision of how each artist wants their track to sound like. She is a wonderful collaborator, and one of the most versatile, diligent and skilled female sound engineers I have encountered thus far."
JaylinZ
Producer/Sound Designer

Portfolio
Read the latest updates and articles.